~The Sacred You Retreat~
Nurturing Your Divine Passions, Money, & Self-Love
April 23 – 26, 2016, Zion National Park, UT
Imagine… You and Other Soul-Centered Women Coming Together In AMAZING Zion National Park to Explore, Cultivate, and Co-Create the Abundant Life of YOUR Dreams!
Does your dream include not only having a healthy, balanced body and mind, but also living your life of passion & purpose? Where you wake each day with EXCITEMENT, have an ABUNDANCE of energy, confidence, money… while doing ALL that you LOVE!
Truth: These aren't just dreams — they are a yearning from your heart. You're hearing a calling from your soul letting you know that your life can be so much more. A life where you have amazing energy, vibrant health, self-acceptance & worth…PLUS living your passions & purpose!
The Zion Retreat is for you if you are:
Feeling overwhelmed, exhausted, or dis-connected from self and need to push the reset button
Ready to let go of the fear, money blocks, and your inner critic so that you can live your passionate life of purpose
Wanting to create a Vibrant Body & Abundant Life Blueprint that includes more balance, passion, and FREEDOM
Feeling stuck or lost and are ready to re-discover your life's passion and purpose
Experiencing a breakdown (health, money, career) and are ready to breakthrough it
Needing some space to rest and focus on YOU while being held in a loving container of support and having FUN!
[stextbox id="outline"]
A sneak peek into our journey together: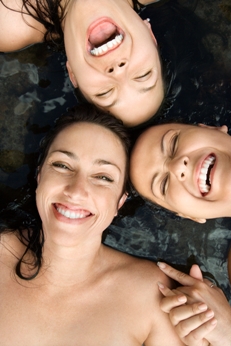 Saturday: Connections & Discovering Your Passions
Ease your way into the Zion experience on Saturday morning: sleep in, take a walk or hike, or just relax while gazing at the amazing beauty of this sacred place. We start our journey together late afternoon by gathering on the grassy lawn and connecting with the soul-sisters who will be with you over the next few days, and beyond. We'll share our hopes and dreams and craft our individual retreat intentions. We continue this discussion at one of my favorite local restaurants, Oscar's Cafe and then cap the day off with a fun process that leads each of us to discover our divine passions. Find out what REALLY lights you up and get a sense of the life you are really meant to live! Then it's off to relax in the way you choose the rest of the evening.
Sunday: Nurturing Your Heart's Desires & Self-Love

Monday morning we begin with a walking meditation in Zion National Park to nurture our passions and desires! We will also focus on tools to cultivate self-love and release shame/guilt from the past, so that you can fully co-create your life of passion and purpose. Afternoon is free time for exploration, rest, let things "percolate", or join me for an optional rock-climbing tour. The group comes back together after dinner to begin collecting images & creating your "Passionate Soul" cards.
Monday: Exploring Your Shadow


Reconvening on Sunday morning, the group will begin exploring their shadows and self-limiting beliefs on a deeper level. Our shadows permeate every aspect of our lives- self-love, money, and fully living your passions and purpose. The afternoon is free for you to relax by the pool, hike, or explore Springdale. After dinner we dive into more soulful self-work and experience a guided Therapeutic Meditation Process (T.M.P.) that will help us to further integrate our shadow parts so they no longer hold us back.
Tuesday: Connecting with Your Soul & Creating Your Sacred Blueprint
Tuesday morning we dive into co-creating our divine visions and blueprints: health, purpose, money, love, passions and more! The afternoon is free for you to do as you wish. The group comes back together late-afternoon to share personal experiences, sacred blueprints, and "Passionate Soul" cards. Our journey together ends with a delicious dinner, followed by a sacred fire to activate all of our sacred blueprints and set forth our new intentions.
[/stextbox]

It totally blew my expectations away...
When Tanya urged me to come on the Maui retreat, I had the usual responses: "I can't take the time off work," and, "I don't have the money for that." But I decided that I was at such a big transitional time in my life, and I had gained so much already doing coaching with Tanya, it would really be a good investment in myself. And it totally blew my expectations away. I got to grips with deep-seated beliefs and emotions and articulated them for the first time. It was super powerful, and I felt totally safe and supported with the retreat group. I also found ways to connect with myself and totally unleash my creative energies: I wrote two songs in two nights while I was in Maui. And since I've been back I've written another one and finished two more. And we had lots of time for rest and play and fun, together and separately. Snorkeling, whale watching, sunsets - amazing experience overall. I highly, highly recommend it.
Yes! I'm Ready for a Soul-Inspiring Journey!
The Zion Retreat includes:
Twenty (20) hours of group "Soul Coaching" with Tanya
Two (2) live virtual group coaching calls with Tanya (pre/post-retreat)
A guided T.M.P. experience (Including an MP3 download)
Soul-inspiring exercises & tools
Daily therapeutic yoga class taught by Tanya
Two (2) delicious meals in Tanya's favorite restaurants
Hours of free time each day to: relax, explore Zion NP, & lay by the pool!
FUN, Support, FUN, Inspiration, FUN, Dancing, Fun (You get the hint) 🙂

Investment does not include: airfare to/from St George, UT or Las Vegas, transportation to/from Springdale UT, lodging @ Canyon Ranch Motel (Roommate on request) or Campground, meals (except two group meals), optional sightseeing/tours or transportation to/from.

Retreat Investment: $2497 (payment plan available)

Please email tanya@tanyapenny.com for a retreat application. Space is limited to 6 women.

I left the retreat with a feeling of clarity and a deeper sense of understanding.


I had no idea what to expect when I decided to go on retreat with Tanya. I knew in my heart that I was meant to go, so despite all the fears that came up for me: money, being out of my comfort zone, meeting people in-person for the first time, and allowing myself to be seen and vulnerable with them around the core issues that we have been working on in the Vibrant Body Program, I went ahead and signed up anyways.

I can say without a doubt that it was one of the most rewarding things I have done for myself! I felt supported, guided, surprisingly comfortable and most of all genuinely accepted and understood! I left the retreat with a feeling of clarity on my direction and a deeper sense of understanding with regards to which action steps would lead me closer to living out my purpose. I honestly believe that if you feel called to go, listen to that, it is well worth it and the rest shall work itself out.

You will not only accelerate your healing, shifts will later occur in your life that you never dreamed possible! I speak from experience, as when I returned from Sedona, many doors opened for me and at an alarmingly quick pace! I am eternally grateful for Tanya's guidance and support and feel that she has been Divinely brought into my life.

Can't attend Zion?
Join us in Sedona, AZ November 2-5 2016 or Maui, HI February 2017.
Email tanya@tanyapenny.com for more retreat details and an application.

The retreat was HUGE for me, life-changing! I will definitely go to another retreat with Tanya.

I was very anxious when I decided to go to the Women's Retreat with Tanya. All my fears, money concerns, and negative judgements about myself came up, but I kept feeling that I really needed to do this and signed up with the help of my higher levels. And WOW, did I ever get a lot out of this experience.

The retreat was HUGE for me, life-changing (I didn't think I would ever use that term)! Tanya held a safe place for me to be vulnerable, and I felt loved and supported. I pushed myself physically, mentally, and emotionally – in a good way. I learned that I actually do have passions/purpose and have the courage to continue to take steps to bring them to fruition. I'm seeing that good things can happen for me and am not automatically going to the belief that I'm not worth it. I am now feeling part of a supportive community and have friendships that will continue for a lifetime. You will definitely find me at another retreat with Tanya. I recommend anyone who has a desire to not let anything get in the way - just do it! You won't regret the decision!

Paula Clements

Clements Consulting


[stextbox id="outline"]

Meet Tanya Penny

| | |
| --- | --- |
| | Tanya Penny, Abundance Catalyst, Intuitive & Freedom Coach, teaches, empowers, and supports healers, coaches, creatives, and those that are ready to break free of your fear & self-doubt, heal weight, chronic illness and trauma, SO you can step into self-confidence, create a healthy, balanced body and lifestyle TO live your purpose AND the abundant life of ultimate freedom that you were born to live! After struggling for 20 years with anxiety, weight, and then being diagnosed with Multiple Sclerosis, Tanya started searching for the root cause of it all and created Therapeutic Meditation Process (T.M.P.) to heal her body and live her life of passion & purpose. She is now devoted to supporting others to heal and co-create a life of health, happiness, abundance & freedom. Tanya is an international coach and speaker, teaching and supporting her clients globally through 1:1 coaching, virtual programs, and live retreats. Find out more about Tanya and her work at www.tanyapenny.com |

[/stextbox]