Let Me Guide You On Your Healing Journey


Hello Brave One,
I'm so happy you found your way here.
I invite you to join me for a year long journey as we work through the 10 Vibrant Body & Abundant Life Keys together.
"HOLY COW Tanya, why a full year"?! Because from lots of experience, healing 100% and co-creating your abundant life takes time. The truth is, you didn't get depressed or sick over night. Most clients work with me for 1-2 years to fully heal and co-create the life they desire.
But, you will start feel better mentally, physically, emotionally, plus see other positive shifts in your life within a few weeks of starting the program and using the tools you learn daily.
On your journey to health & healing, I'm here to guide you and walk by your side. You'll move at your own pace, and I'll be with you every step of the way, cheering you on.
There's more information about my methodology and the program below. If it resonates, I look forward to supporting you.
2020 is the 7th year I'll be teaching this program. I hope you will join us.
Sending you love & courage on your journey,
Tanya 🙂
P.S. If you own a business (or want to) check out the Vibrant Body, Abundant Life + Biz program (it also includes this program).


Is this what you've been looking for?
I work with people who:
Often feel exhausted, stressed, or burned out
Have anxiety, depression, excess weight, pain, or a chronic illness
Want to fully heal past trauma or abuse
Struggle with the patterns of Perfection, People Pleasing, & Pretending to be Super Human
A part of you knows that it is possible to heal
Have already done some healing work
Desire abundance in all areas of your life – health, relationships, spiritual connection, money, your passions & purpose
Are 100% committed to do whatever it takes to heal – you really want this
My Methodology
Over the course of our time together, I guide my clients through my methodology – the 10 Vibrant Body & Abundant Life Keys, including the Therapeutic Meditation Process. Each one of the Keys can be the cause of illness or imbalance that throws your health and life 'out of whack'. Most of my clients report that they want – and need – to work on all ten in order to fully heal and have the life they desire.
For a more in-depth exploration of the 10 Vibrant Body & Abundant Life Blueprint Keys, click here for the Starter Kit.
If you would like to only join me for a specific Key, you can find them all here.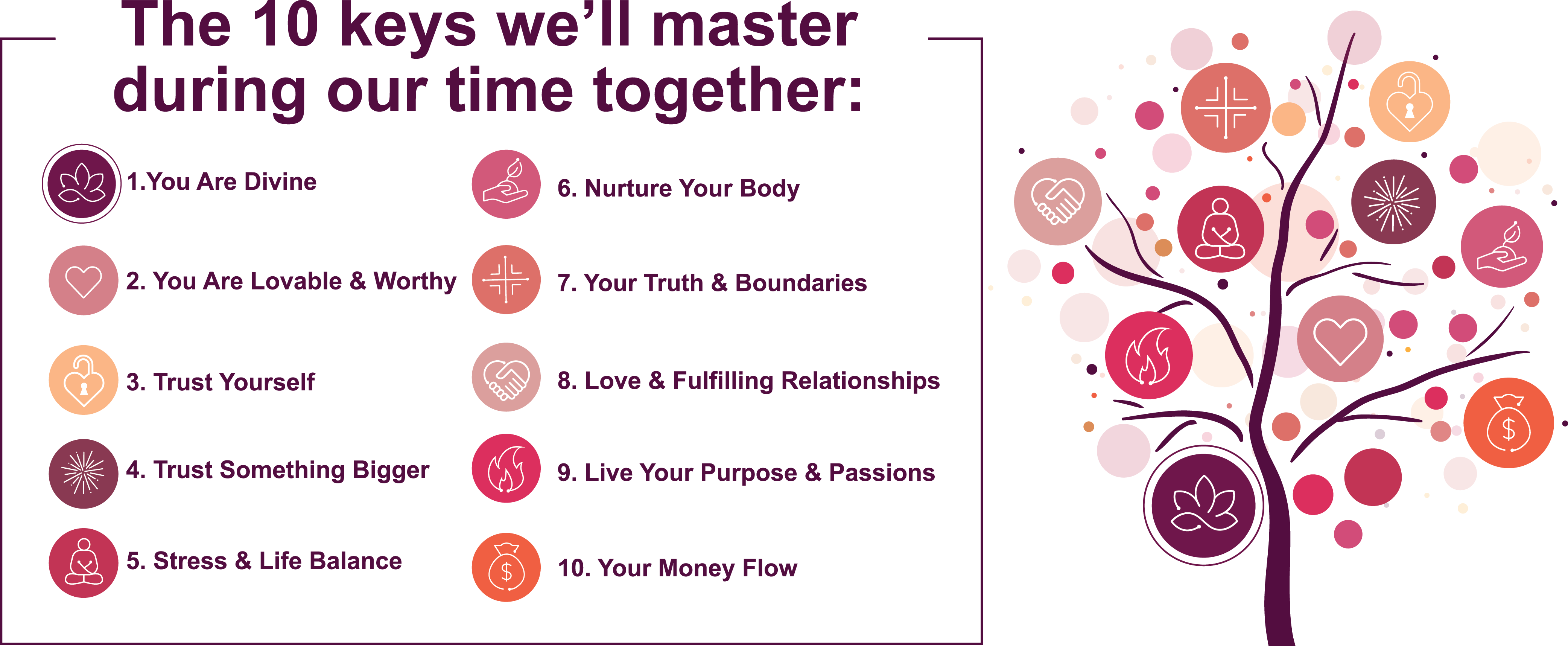 Your Journey Includes
Private session(s) with me via phone or Zoom
(2) 60 minute live group calls (each month)
(1) private coaching email with guidance (each month)
Access to my 10 Key audio lesson library (60+ minutes for each Key)
Guided therapeutic meditation practices (2 for each Key) and self-healing processes (1 for each Key)
Quantum Field Healing® & Energy Work
An audio message sent to your inbox each Monday
A private online community for 24/7 support
Special pricing for all my retreats
Access to ALL my stuff (including Release The 3P's program, Symptoms Speak workshops, Healing Trauma class, etc.)
BONUS 1: A personal guided therapeutic meditation practice (ends February 22)
BONUS 2: All 10 "Be Your Own Valentine" conversations + "Self-Love Blueprint" workshop (ends February 22).



How It Works
Once you join me by clicking a button below, I will send you an email with your steps to get started including information to login and access your online membership library that includes: Key audio lessons, guided therapeutic meditation practices, self-healing processes, and other resources to support you on your healing journey.
You will receive a link to schedule your first private session with me (phone or Zoom). Before the session you'll fill out a coaching questionnaire so I can get to know you, your struggles, and your desires. During our session, I will provide insight into the root cause(s) of your health and other concerns, give you personalized guidance, plus inspired actions to support you to move forward and heal. If you have additional sessions, you can schedule them as you wish throughout your year long program.
Each month, you can send me one email with questions about the program, your health concerns, other life struggle's, etc. I will then record and email you a 5-10 minute audio MP3 with personalized guidance to support you to move forward.
We'll meet each month for 2 live 60 minute group calls where we will focus on 1 of the 10 Keys. You can ask me questions and receive personalized coaching on your health plus other life areas. Live classes are usually on the 2nd and 3rd Wednesday of each month at 11am and 4pm Pacific Time. You can attend via phone or webcast. If you can't attend live, you can email me questions and listen to your answers when you download the class replay.
Listen To A Sample Live Class

You'll also receive a special recorded audio message from me each Monday to support you during the upcoming week, plus an invitation to our private Facebook community where you receive support from me and other's on their self-healing journey. Participate as much or as little as you like. There are no have-to's or should's in this program.
Listen To A Sample Weekly Audio Message

BONUSES
Receive your own personal 30 minute guided therapeutic meditation practice – I will record a practice for you that includes your desires and limiting beliefs & truths (bonus ends February 22).
Receive all 10 "Be Your Own Valentine" conversations + the "Self-Love Blueprint" workshop (bonus ends February 22).



Your Program Options
(1) Private Session + Group
| | |
| --- | --- |
| 1 Payment $888 | 12 Monthly Payments $88 |
(6) Private Sessions + Group
| | |
| --- | --- |
| 1 Payment $2488 | 12 Monthly Payments $228 |
(12) Private Sessions + Group
| | |
| --- | --- |
| 1 Payment $3888 | 12 Monthly Payments $368 |
Questions?
I recommend to first read the FAQ's. Then, if you sense this program might be your next step, but want to talk to make sure, let's find a time to chat. In this conversation, I will ask you about your health issues, other life breakdowns, and your desires. We'll see how it feels and decide if this program is the next step on your journey to a vibrant body and abundant life. Simply click on the button below. I look forward to connecting with you soon. xoxo Tanya 🙂
I am living proof that the mind/body way of healing is achievable...

Working with Tanya has been incredibly life changing! I have made so much progress in the last 16 months! I honestly feel that I couldn't have done it without her support and guidance and accountability. When we started working together, I'd just had a full hip replacement surgery at the age of 39 and this caused the Multiple Sclerosis to flare up and my doctor wanted me to start taking disease modifying drugs. I was also on medication for chronic migraines and a pain reliever for 15 years. I knew I wanted to heal and not use medications any longer. With Tanya by my side, I started to delve deeper into emotional healing and acquired many tools to support me.
After 15 years on my healing journey, I just had my first "normal" neurological exam!!! I am off all medications with no symptoms except fatigue when I overdo it. I am still working with Tanya to shift this "superwoman" pattern. I am further living proof that the mind/body healing and natural way not only works but is achievable by anyone looking to take their health into their own hands. I couldn't have done it without Tanya Penny. Thank you Tanya, from the bottom of my heart! I will be eternally grateful to you helping people heal the natural way.
"Tanya's 1:1 support and the Vibrant Body & Abundant Life community has been absolutely vital for me..."
"Working with Tanya has helped me transform my life in multiple ways. I was super skeptical about working with a coach, but Tanya's blend of practicality, compassion, smarts, spirituality, and humor helped me overcome my fears and get out of some rough places. In the last 13 months, I've gotten clear about what I want and need in my life. I had the courage to leave a marriage that was no longer working for me; changed my tendency to overwork in a job that doesn't inspire me; got a handle on money issues; started planning a new career, and boosted my health. I have a lot more trust and confidence in myself, and I'm able to communicate my feelings and my needs. I take better care of myself physically and mentally, realizing for the first time in my life that it's not selfish to put my needs first. I don't beat myself up anymore either.
Before coaching with Tanya, I was in deep crisis. I felt anxious, sad, unfocused, unmotivated, and completely unable to trust my instincts and my decision making processes. I'd been stifling my feelings about love, work, and myself for so long that I just broke down. I was hospitalized for pneumonia and missed weeks of work, unable to recover my strength and energy. I feel confident that I'm creating a kick-ass life for myself. I'm in a relationship with a guy who gets me, loves me, supports me, and is incredibly fun. I feel happy and open to the world again. When I do feel sad, scared, or any other negative emotion, I now have the tools to figure out the root cause and a way to move forward. Tanya's 1:1 support as well as the "Vibrant Body & Abundant Life" community has been absolutely vital for me in making these huge positive transitions in my life."
Meet Tanya Penny
I'm Tanya Penny, OTR, Author, Vibrant Body & Abundant Life Coach. I support and teach you to fully love yourself, and heal past trauma & chronic illness using my mind-body-spirit methodology. For 25 years of my life, I experienced anxiety, depression, pain, and carried extra weight. In 2004, I was diagnosed with Multiple Sclerosis. That was my wake-up call that there were some deeper issues in need of love, attention, and release, that medications, lifestyle changes, and medical interventions couldn't touch. It wasn't easy (I had to peel back the layers and really look into my self) and it wasn't quick (it took years), but I healed. I believe there is a place and a time for doctors and Western medicine, but if you are 100% committed to healing all areas of your life, your soul is called to go on a journey as well. Now, I teach the Therapeutic Meditation Process™ (T.M.P.) and the 10 Keys to a Vibrant Body & Abundant Life™, trusting that it will find its way into the hearts and lives of those who need it, and are ready to take the journey.